The contact information below is provided as image to prevent bots from grabbing and misusing the information. Apologies for the inconvenience.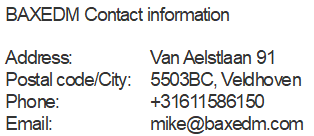 BAXEDM can also be messaged on the number above:
BaxEDM is a registered tradename of Tesotronics
Business information:
Duch chamber of commerce commercial registration number: 17271519
Registered address: Van Aelstlaan 91, 5503BC, Veldhoven, The Netherlands
The commercial phone number and email are the same as listed above.